MFT Training Program Links
The Denver Family Institute Marriage and Family Therapy Training Program has a number of built-in benefits due to the unique structure of our program.
Benefits of the MFT Training Program at DFI:
Complete the majority of the Marriage and Family Therapy coursework required for LMFT licensure in the state of Colorado.
Gain direct client contact hours for experience and licensure (a minimum of 500 hours are required to complete the program).
Work with a dedicated, passionate faculty that is second to none in the area.
Join a small cohort of peers who will learn and grow alongside you during the 2-year experience.
Learn the central importance of relationships in all clinical work.
Mature and grow as a strength-based, systemic therapist.
Master the competencies and Student Learning Outcomes necessary to be successful in the field of MFT.
Move beyond a singular focus on treating disease to empowering clients to resolve pressing life problems.
Expand as a clinician to having a "self of many possibilities".
Join with a diverse array of families, couples and individuals.
Facilitate change in the therapy session.
Maintain therapeutic maneuverability with reluctant or resistant family systems.
Build a strong foundation of knowledge of the major family therapy and couples counseling theories.
Integrate theories in practical ways in your clinical work.
Apply solid systemic assessment skills and build a systemic hypothesis.
Explore your own family-of-origin role, experiences, cultural identity and heritage to strengthen your therapeutic presence and use of self as a therapist.
Value your own cultural, gender and sexual identity, and those of your clients.
Develop an optimistic, hopeful approach to working with difficult cases.
Join a warm, supportive, diverse therapeutic community.
Work with diverse clients in the DFI clinic.
Team up with fellow students in mutually supportive, enriching relationships.
Integrate your strengths, experiences and knowledge into your therapy.
Receive direct feedback, expansive experiences and team support in DFI's live supervision format.
Foster connections with other professionals in the family-therapy field.
Cultivate a deep sense of ethics and integrity in your work and integrate relational ethics as the foundational element in good therapy.
Have fun while learning and stretching with other motivated, dynamic students.
Accept challenges to your comfort zone as needed so you can supervise yourself as an independent licensed clinician.
Nurture your sense of self as a clinician and your use of self in your work.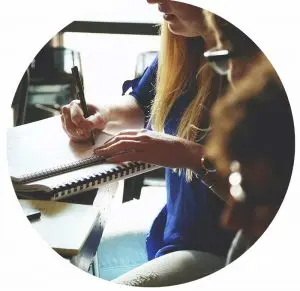 Interested in learning more about DFI's Marriage and Family Therapy Program?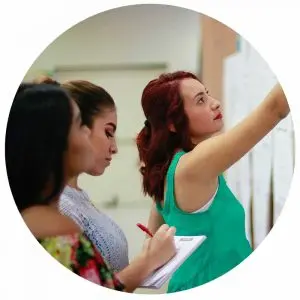 Are you ready to take the next step and join our incoming cohort?