MFT Training Program Links
The MFT Training Program at DFI offers a two year post-graduate certificate in Marriage and Family Therapy. Students graduate with an COAMFTE-Accredited Certificate in Marriage and Family Therapy and most of the coursework needed to apply as an MFT Candidate and sit for the LMFT exam in the state of Colorado. 
DFI is a hands-on, experiential training program where students deepen their ability to work from a strength-based therapeutic model and develop their own theory of change in their work  with couples, families, and individuals. Students conduct psychotherapy under the supervision of a wide range of practicing therapists. DFI is the only Post-Degree Institute (PDI) in the state of Colorado that is accredited by the Commission on Accreditation for Marriage and Family Therapy Education (COAMFTE), and one out of only five accredited PDIs in the entire country.
Hands-on and Experiential Learning Environment
Start Seeing Clients Right Away
(while receiving top notch supervision and training)
Complete Your COAMFTE-Accredited MFT Certificate in Two Years
The Denver Family Institute MFT Training Program is a two-year program which consists of 16 total MFT courses. These courses cover a myriad of topics related to conducting the therapy process, and treating clients from a systemic and relational perspective. All courses at DFI are designed to be applicable and highly experiential through which students are continually asked to integrate the knowledge and skills gained in class into their work with clients at DFI's clinics.
All instructors and supervisors at DFI are active in the MFT community and practicing clinicians, which means that 100% of the faculty are actively involved in offering the therapy services that they will be teaching and/or supervising.


DFI is an outcome/competency based program. Instructors and supervisors hold the responsibility of guiding students on their journey toward becoming effective and confident therapists.


DFI is the only Post-Degree Institute (PDI) accredited by COAMFTE (the accrediting division of the American Association for Marriage and Family Therapist) in the state of Colorado, and one of five accredited PDIs in the country. Graduates from the program will have many of the academic requirements needed to apply for a License in Marriage and Family Therapy (LMFT) in the state of Colorado*.


Additionally, the majority of supervisors at DFI also have an LCSW/LPC+LMFT so that supervision at DFI can count towards a LCSW, a LPC, or a LMFT once the student has earned their masters degree.
*DORA is the licensing and regulatory body in the state of Colorado for mental health licensure and makes the final decisions related to education equivalency and approval for licensure. Therefore, DFI is not able to guarantee that graduates from the DFI program will ultimately be approved for licensure by DORA as the educational backgrounds of students vary, and licensure requirements are subject to change. Although DFI seeks to offer guidance and resources related to licensure, it is ultimately the responsibility of each student to navigate and pursue licensure. Click here to find out more on Certification and Licensure.

Who Is a Candidate for DFI's MFT Program?
Students begin the DFI program while in their last year of graduate school or as a post-graduate for students who have already obtained a Master's degree in counseling or a related field. The program is a two year commitment for all students. All students attend weekly evening classes and set their own schedules for seeing DFI clients. All first year students at DFI receive weekly individual supervision and five group supervisions per quarter. In their second year, all students receive bi-weekly individual supervision and five group supervisions per quarter. There are currently 3 classifications of students:
In addition to the DFI requirements cited above, Interns at DFI commit 10 hours per week to administrative and intake tasks at DFI's clinic. Interns receive an Intern scholarship that is applied to their tuition in their first year at DFI.
Individuals who are still in their Master's program and looking for internship hours but are seeking more flexibility than is offered by the DFI Internship (described above) can apply as a Pre-Graduate. Pre-Grads and Post-Grads are not eligible for the Intern scholarship.
Post-Graduate (Already hold a Master's degree)
Post-Graduate students already hold a Master's degree before starting at DFI. Every 2nd year student at DFI is considered a Post-Graduate student. The Internship placement and Intern scholarship is not available to Post-Graduate students.
To complete the program at DFI the students must:
Complete and pass all 16 courses
Average a 4 on their final DFI competency evaluations (which are a self-evaluations that are confirmed by the individual supervisor and complete all relevant evaluations throughout the program)
Maintain orderly client files
Pay tuition in full
Complete 7 quarters of group and individual supervision
Complete 500 hours of clinical work (400 or more direct contact hours and up to 100 professional hours). DFI graduates are required to have conducted 250 psychotherapy sessions at the DFI clinic.
Pass the final capstone project

"Students receive a therapeutic education that goes the extra mile! Students present live and taped cases to supervisors, and work in a creative space to explore different facets of marriage and family therapy. I love how our students, faculty, and staff think of therapy experimentally. This creates such an innovative and insightful environment!"
100% of DFI Students and Faculty would recommend the DFI MFT Training Program to a friend or colleague.
"DFI's biggest strength is the community and supervision. My cohort has proven to be far and beyond a community and resource I could have imagined. The clinical training I'm getting through individual supervision and live sessions is also amazing."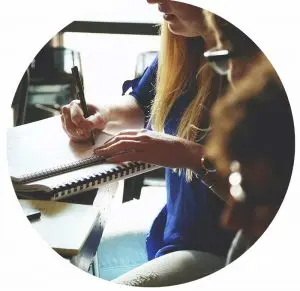 Interested in learning more about DFI's Marriage and Family Therapy Program?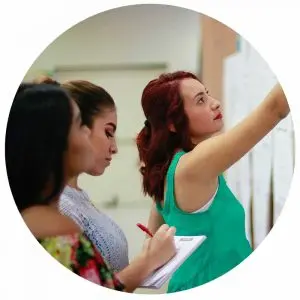 Are you ready to take the next step and join our incoming cohort?